Yoga - A gem for Women :
Available in - English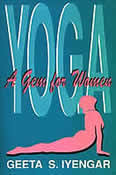 This book was published in 1983. It has now become a classical book on Yoga for women. This book takes into consideration the milestones in a woman's life. It also gives an explanation on the physiological changes that a woman undergoes and the problems that she may encounter. A special section has been devoted to "Yoga Kurunta", practising asanas with the help of ropes. The other important sections are on savasana, pranayama and asana and pranayama practice during pregnancy. A book which is a must for all women practitioners of yoga.

Click here to purchase this book.
Yoga in action : A Preliminary Course :
Available in - English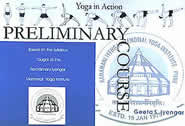 This latest publication is meant as a manual for the new practitioners of Iyengar Yoga. This book guides the students in their individual practices by providing a step wise approach of every asanas. It has several graphics of the final classical asanas and also the intermediary stages. A must for all those aspiring to take to the study of Iyengar Yoga as well as the teachers so that they too can systematically guide their students.