Which health problems can be treated with Yoga?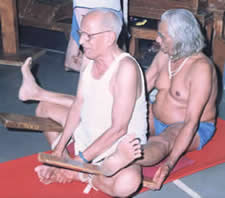 Therapeutic Yoga provides relief from chronic health problems. Guruji's innovations with props has made yoga the answer for all kinds of medical problems.

Some of the chronic ailments for which people have benefited from Yoga Practice are:
a) Skeleto-muscular Disorders : Arthritis of the knee, shoulder, Cervical Spondylosis, Lower back pain, Slipped Disc, Ankylosing Spondylosis and Sciatica Pain.

b) Circulatory Disorders : Heart problems, Relief from Angina pain, Hypertension, Circulatory problems in the legs.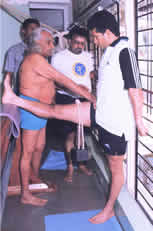 c) Digestive Disorders : Constipation, Acidity, Flatulence, Diabetes, Colitis, Hiatus Hernia.

d) Respiratory Disorders : Asthma, Sinusitis and Bronchitis. Nervous Disorders : Headache and Migraine.

People who are HIV positive are finding an improvement in the quality of life after Iyengar Yoga. There are special classes for such people in USA and France. Special centres are also teaching for drug addicts.
Can Yoga be practiced by women ?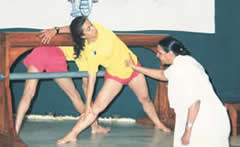 Yoga can be practiced by women of all ages. Women can practice asanas and pranayama even during menstruation and pregnancy but the practice needs to be restricted and modified.

Certain asanas are extremely helpful for a women's physiology especially to over come menstrual disorders. It also helps to withstand the physiological and emotional changes accompanying menopause.



Yoga practice during pregnancy is beneficial to the mother as well as the baby. It helps the mother to have an easy delivery and good nourishment to the growing baby. Many countries have special pre-natal classes for pregnant women. However it is advisable to practice under the guidance and advice of an experienced teacher.

Many women now prefer yoga to Hormone Replacement Therapy.